CIOB People speaks to three female crane operators about how they are helping to dispel the misconceptions about what women can achieve on site
Traditionally, working as a crane operator has been viewed as a man's game, but change is afoot. Here, three women in construction discuss what attracted them to the industry, as well as the gender stereotypes they have faced in their career.
Kelleher has become a prominent industry personality over the course of her career in construction, working on high-profile projects including Crossrail and the Thames Tideway Tunnel.
However, she admits that her move to construction after studying English Literature at university was "a bit of an accident".
"I ended up working in recruitment on a trade and labour section," she says. "I noticed people in construction were getting paid significantly more than I was and I wondered if there could be a place for me.
"I didn't have the tickets, the training or the skills, but what if someone was willing to train me?"
People should be able to be themselves… I wear makeup, I have nails, I have crazy hair. It is all ok and it is all me. Construction is for everyone, there is a role for everyone
Katie Kelleher, KatieCranes.com
Kelleher adds: "I never set out to be a crane operator, it never even crossed my mind as a viable pathway for me. When I was asked about the role, my first thought was that women didn't operate cranes – something that had probably been embedded in me since school.
"I had to revaluate what I thought I could and couldn't do and becoming a crane operator was the opportunity to do this. I would either be really good at it or really bad at it, but if I didn't try, I would never know.
"It was an opportunity to change my life and I fully grasped it with both hands."
"I always found operating very rewarding. Being able to complete a lift very well is satisfying. There is a real art to it – and when you nail it and things go smoothly, it is massively rewarding," she says.
However, Kelleher is also honest about the challenges of a career on site.
The expected work hours can be "very taxing", she says. "You wake at around 5am to get to work in London for 7am, then you work until 6pm. More often than not, you work later if lorries turn up late or concrete over runs. Then, when you finish, you still have to travel home.
"It can make it very hard to make plans or balance life sometimes. Some weeks, you will put in 70-hour timesheets.
"On the other side of the coin, this can sometimes be the biggest reward. Crane operators are paid hourly and if it's money you are after, it is a good place to be."
As a woman on site, another challenge has been the need to address gender stereotypes. Kelleher says she has experienced plenty of misconceptions, which often stem from "how we look, what we wear, how we should behave".
"I hope that my social media shows other women it is ok to be yourself and turn up and do your job. I also hope it shows women they can absolutely do anything they want to, inside or outside construction," she says.
"Don't get me wrong, it isn't always easy and there are always idiots that will try to bring you down in one way or another, on social media and on site too."
Kelleher recalls a recent event at a college where a female recruiter from the construction industry insisted women who work for her should not "bother with makeup, their nails or hair".
"What kind of message is that?" says Kelleher. "People should be able to be themselves whatever that looks like – as long as it doesn't interfere with health and safety," she insists.
"I wear makeup, I have nails, I have crazy hair. It is all ok and it is all me. Construction is for everyone, there is a role for everyone."
Kelleher admits she did not always have this confidence. "In the early days, I put a lot of pressure on myself," she explains.
"I had constant headaches from the stress of trying to prove myself and trying to constantly be my absolute best. I wish I could have relaxed a bit more and enjoyed it."
If she could pass on advice to a young woman joining the industry today, Kelleher says: "Go easy on yourself. Take each day as a learning step and give yourself time to learn – you've got this!"
After leaving the Armed Forces, Clark wanted to pursue a new career path that was based outdoors and would provide an opportunity to travel.
"I wanted to learn new skills and further my career, so I knew I wanted to work in a specialist field in construction," she says.
"I knew a few people in the piling industry and decided to put some feelers out about working with them. I was able to secure an apprentice role in piling foundations to start my construction career."
After around six years of working on the ground alongside the cranes, Clark says she wanted to "have a go myself and see if it was something I could do".
She adds: "I love a challenge and wanted to further my career within the piling industry, so I self-funded my crawler crane training course and started to build up working time in the crane.
"Now, almost four years on, I still enjoy working in the crane and feel that I have a unique understanding of driving cranes for the piling industry given my previous roles."
Last October, Clark joined Brian Perry Civil and is now based in New Zealand.
Reflecting on the inclusion of women in construction, she believes the UK and New Zealand are on par when it comes to gender diversity.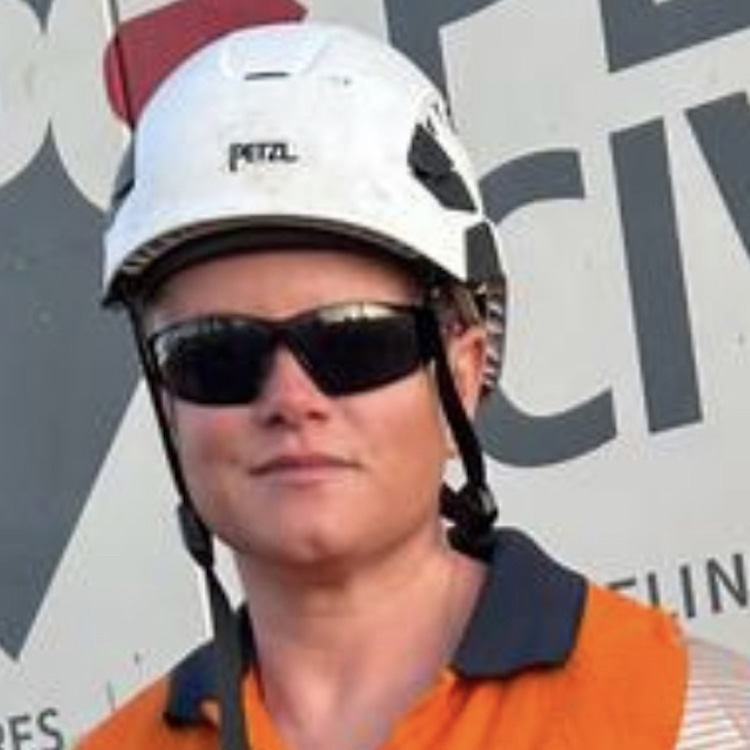 Sometimes I am judged on my abilities before people have even met me. They can assume that I won't be good at my job just because I am a woman
Lucy Clark, Brian Perry Civil
However, she adds: "In my current company, they have a women in construction committee, which I am a part of. In the UK, none of the companies I previously worked for had this.
"As part of the committee, they are focused on addressing the equality and visibility of women in construction.
"They also hope to educate the younger generation that a career in construction is possible and not just office based either, but on site [and working with] the machinery too."
With almost 10 years of experience in the industry, Clark has tackled many stereotypes commonly faced by women in construction.
"Sometimes I am judged on my abilities before people have even met me. They can assume that I won't be good at my job just because I am a woman," she explains.
"Often men underestimate my physical strength and assume that I will not be able to manually handle heavy materials. Or they may try to be 'gentlemanly' around this and want to help me when it's not needed.
"Once I arrived at a site and the security automatically thought I was the site cleaner, just because I am a woman."
Steps towards inclusivity
So, what can industry leaders do to ensure sites are more inclusive?
"Be open and honest around having discussions with women," Clark says. "[This will help] to improve work practices and ethics to support equality and mutual respect for women."
Leaders need to "lead by example", she adds, as well as holding site visits and talks at schools, showing women in construction working on sites. This will change the narrative around construction being a man's game, she says.
Her advice to other women on their first day in the job? Clark says: "Don't be afraid to get your hands dirty and stick up for yourself if you feel you need to.
"Don't let anyone's predispositions bring you down – surprise them with your abilities."
Binding describes herself as a "hands on" person, which attracted her to a career in construction.
Her partner is a crane operator, which gave her a taster of what the role entails. "I went on a few jobs with him around the country and found the job really interesting," she recalls.
Joining Ainscough as a crane operator apprentice in 2021, Binding spent two years at the company learning the ropes.
Binding highlights the benefits of a career as a crane operator – contributing to building new houses and industrial projects is hugely rewarding.
She adds: "The money was also better than other jobs that were available to me at the time."
I want to prove to myself and other women in construction, or girls who are thinking about a career in construction, that anything is possible
Kelsey Binding, Cork Crane Hire
As a woman joining the industry, it has, at times, been daunting. However, Binding remains passionate about her career choice.
"I want to prove to myself and other women in construction, or girls who are thinking about a career in construction, that anything is possible," she explains.
"Of course you get some people who are stuck in their ways and don't think I should be on site because I'm a woman. They soon find out I am more than capable of being safe and competent in all aspects of my job.
"Plus, I don't take any stick and I give as good as I get," she laughs.
In February, Binding moved to Cork Crane Hire, where she says she is continuing to learn more about the industry every day.
Hopes for construction firms
Looking ahead, she hopes construction companies will do more to attract women to the industry.
"I think industry leaders can make more of an effort specifically to aim apprenticeships at females who are just as keen as me.
"[It is important to] provide the training and information they require and give them an opportunity to show their potential."
And she has some sage advice for the next generation of talent who might be considering taking to the cranes. "One thing I will say to anyone, but especially females, is: don't be afraid to follow your dreams. Life is short, so do what makes you happy."